Urban farm
Project description:
Series of educational pavillions for agricultural kwnolage
Place:
Moscow, Russia
Function:
Recreational, Educational
Area:
3 ha
Materials:
Wood, steel, natural stone, concrete, glazing
Role:
Architectural designer, co-author as a member of WOWHAUS architects
WOWHAUS architectural bureau's project Urban farm was created as a soft tool for children and their parents to learn about nature and agriculture in an informal manner within the playful environment.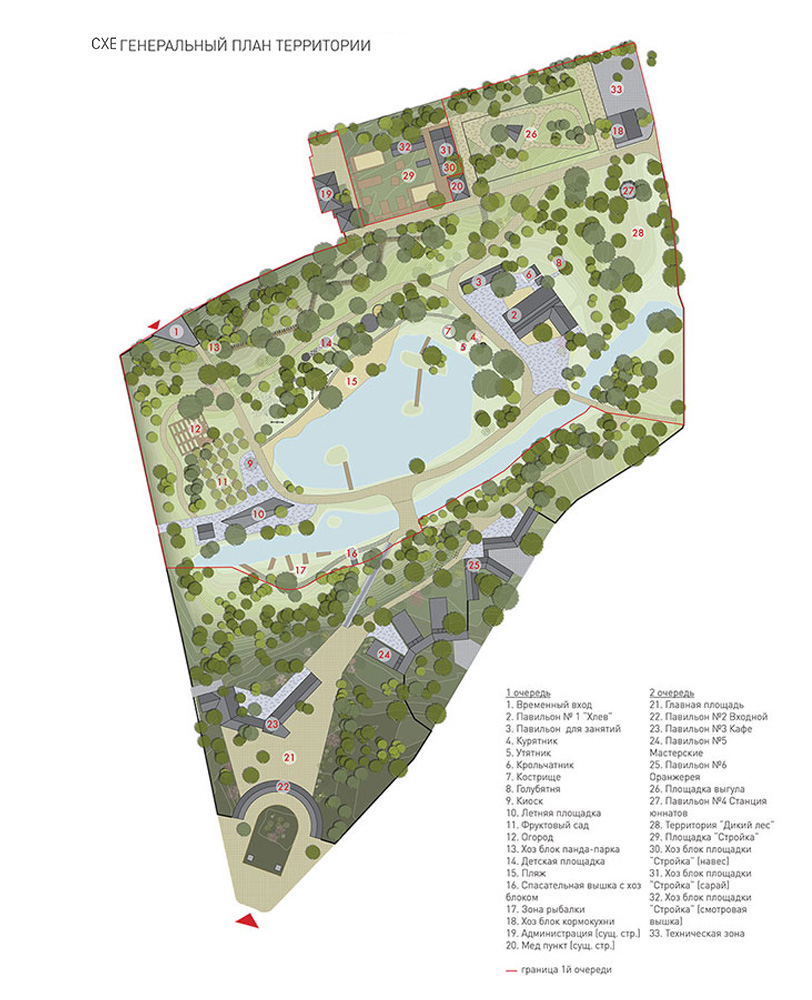 Site plan (courtesy of WOWHAUS)
Located in VDNH park area and continuing the sequence of historical pavilions, farm has become an additional attraction for the visitors.

The site itself has a long time story of being an agricultural center - during soviet period fishing pounds and many other animal facilities were located here. New concept was based on transforming the territory from its factory-like image into intense and friendly natural environment.
Most pavilions took their place around renovated pound in the middle of the site.

In barns one can find domestic animals, feed them and take care under the guidance of professional keepers. Apart from direct interaction with animals, there are lots of other possibilities: children can enjoy landscape-embedded playground while their parents having coffee in farmers cafe. In workshops and orangery buildings citizens can enjoy art, study all kinds of craftsmanship, along with learning many things about plants, vegetables and fruits.












WOWHAUS team:

Founding partners: Dmitry Likin, Oleg Shapiro
General director: Anna Ishenko
Chief project architect: Alyona Zaitseva
Architects: Gleb Galkin, Darya Listopad, Anastasia Izmakova, Yevgeny Reshetov, Margarita Leonova, Maria Khokholova, Alexandra Kim, Maria Khokhlova, Denis Manshilin and Ivan Korenkov Master Plan: Nina Smirnova
Chief structural engineer: Dmitry Belostotskiy

Photos by Mitya Chebanenko

All images courtesy of WOWHAUS architectural bureau